A Quiet Place Double Feature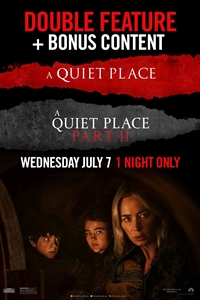 Release Date:
June 23rd, 2021
MPAA Rating:
PG-13
Runtime:
3 hr. 36 min.
Genres:
Suspense/Thriller
Director:
John Krasinski
Cast:
Emily Blunt, John Krasinski, Cillian Murphy, Millicent Simmonds
Synopsis In the modern horror thriller A QUIET PLACE, a family of four must navigate their lives in silence after mysterious creatures that hunt by sound threaten their survival. A QUIET PLACE PART II follows the Abbott family as they must face the terrors of the outside world in their continued fight for survival in silence. Forced to venture into the unknown, they quickly realize that the creatures that hunt by sound are not the only threats that lurk beyond the sand path.