Peter Rabbit 2: The Runaway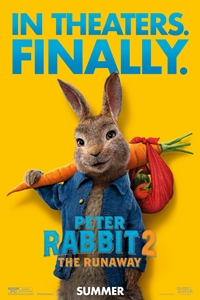 View Trailer
Release Date:
June 11th, 2021
MPAA Rating:
PG
Runtime:
1 hr. 33 min.
Genres:
Family, Action/Adventure
Director:
Will Gluck
Cast:
Rose Byrne, Domhnall Gleeson, Elizabeth Debicki, Margot Robbie
Synopsis In PETER RABBIT 2: THE RUNAWAY, the lovable rogue is back. Bea, Thomas, and the rabbits have created a makeshift family, but despite his best efforts, Peter can't seem to shake his mischievous reputation. Adventuring out of the garden, Peter finds himself in a world where his mischief is appreciated, but when his family risks everything to come looking for him, Peter must figure out what kind of bunny he wants to be.